How it all began...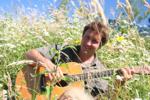 My passion for guitar started in the last years of my school days. A friend started playing electric guitar and I grabbed my father's old travelling guitar. I quickly developed my own style, playing classical pieces on steel strings, which is unusual but gives the pieces a greater dynamic due to the numerous harmonics.
I travelled a lot through Europe, always taking my guitar with me, and played in the pedestrian zones, on the promenades and later also on private occasions. About every two years I recorded a CD. At first in the recording studio, then later, when the opportunity arose, out in nature. In nature, it was much easier for me to capture and record the right mood for my music.

The idea of street music is wonderful, because it works completely differently from what we are used to here in Europe. You don't ask for anything in return, but give people your music and wait to see what life gives you in return.

A short poem from my first CD: Power of Silence

Where are you rushing to in great haste?
Your mind is caught up in thoughts.
Your steps carry you past,
But you pause in sudden wonder.
Soft sounds that touch your heart.
The thoughts are silent, the senses are awakened
and you begin to live.
As you listen, a deep calm pervades you.
What is more important than being here!
Welcome to reality!
Jan Robin