A rare handicraft
Most people only know wire as binding wire or tension wire for fencing and hardly anyone knows how versatile and interesting this material is. There is probably nothing that cannot be made from wire and the creative work with it is great fun. In addition, the works of art created fit very well into modern living areas. Many useful things can also be bent. Examples include bookmarks, letter and pen holders, tea lights, photo and jewellery stands.


With finer wire and small glass nuggets or gemstones, you can also make imaginative jewellery. There are countless motifs and possibilities.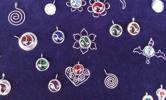 For many years I had a stand on Sylt every summer. Many of my wire artworks were created there and I had an appreciative audience. During the Christmas season I could often be found at the small local Christmas markets in the Freiburg area. At the moment, due to the impossible conditions out in the world, all this is at rest and I am concentrating entirely on the Stone Nest and our projects.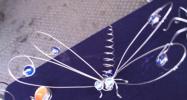 However, if you are interested in one of my models pictured here, please feel free to contact me!